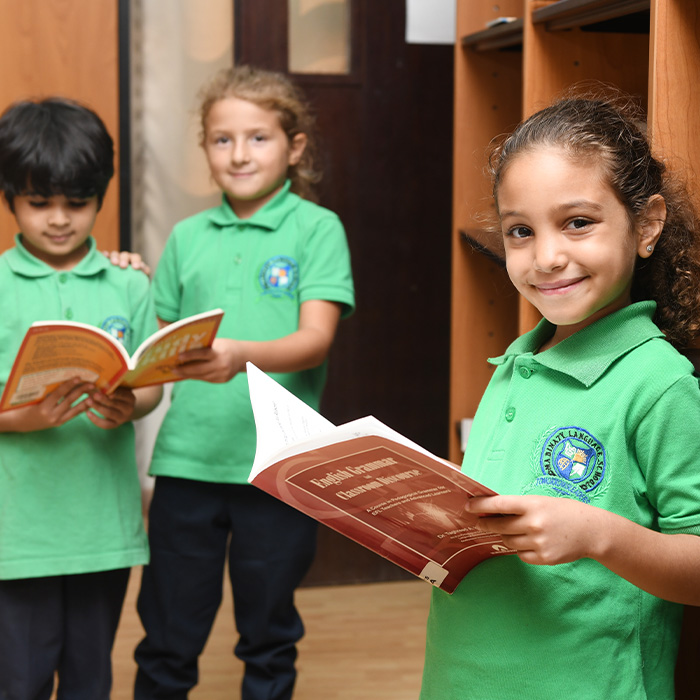 Facilities and Student Life
Our school campus is truly a piece of art
Facilities and Student Life
Surrounded by greenery, our campus is truly a piece of art. The three-story building is extremely spacious, bright and well ventilated. Corridors display the distinguished artworks of our students overseen by our passionate art teachers. The school grounds encompass the following:
87 spacious, air-conditioned and well-furnished classrooms with a smart board installed in each

3 well-equipped science labs

2 Information and Communications Technology (ICT) suites

Stem lab

1 library with a wide selection of books

A music room and 2 art rooms

A 400-seat auditorium used for school events, symposiums and student conferences

Ample outdoor play areas for break and sport activities

Football, basketball and handball fields

Outdoor learning spaces
Student Life
Students are at their best when they act as their own learning agents and work towards set goals as part of their academic achievement. They must believe that they can learn, and know how to deal with failures and learn from those experiences.

Active learning in groups and healthy peer relationships in a warm, inviting classroom ensure students are challenged and best placed to realize their full potential.

We pay due care to community engagement through site seeing, field trips, and team projects. All of these enhance students' cultural awareness, helping to shape them into responsible, resolute individuals.



Gallery of our Facilities